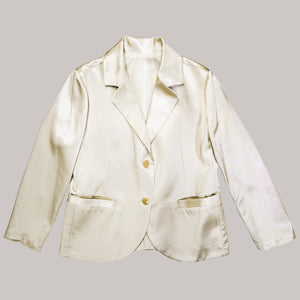 Sacou auriu / Golden jacket
Simplu si rafinat, acest sacou asigura mereu o prezenta remarcabila indiferent de eveniment. Materialele de calitate superioara confera lejeritate si o stare de bine.
Simple and refined, this jacket always ensures a remarkable presence regardless of the event. High-quality materials provide lightness and a sense of well-being.
Compozitie/composition:
exterior: 98% bumbac/cotton, 2% elastan/elastane
interior: 100% poliester/polyester
Toate marimile de pe site corespund IT / JP
All sizes on the site correspond to IT / JP
Adult
| | | | | | | | | | |
| --- | --- | --- | --- | --- | --- | --- | --- | --- | --- |
| INTERNATIONAL  | XS  | S | S-M | M | M-L | L | L-XL | XL | XXL |
| IT/JP | 36 | 38 | 40 | 42 | 44 | 46 | 48 | 50 | 52 |
| UK | 4 | 6 | 8 | 10 | 12 | 14 | 16 | 18 | 20 |
| FR/BE | 32 | 34 | 36 | 38 | 40 | 42 | 44 | 46 | 48 |
| DE/AT/NL/CH | 30 | 32 | 34 | 36 | 38 | 40 | 42 | 44 | 46 |
Fete/Girls
| | | | | |
| --- | --- | --- | --- | --- |
| varsta/age | inaltime/height | piept/chest | waist/talie | hips/solduri |
| 4 | 104 |  57 | 54 | 60 |
| 6 | 116 | 61 | 57 | 65 |
| 8 | 128 | 66 | 59 | 71 |
| 10 | 140 | 72 | 62 | 78 |
| 12 | 152 | 79 | 64 | 84 |
| 14 | 164 | 87 | 67 | 92 |
| 16 | 168 | 91 | 71 | 96 |